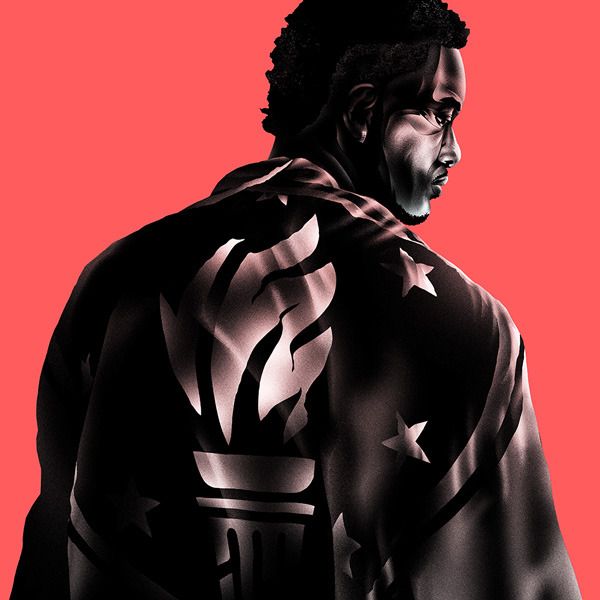 KB started gaining attention with his first hit album, Weight & Glory, and has been riding the momentum since.  The 100 EP which followed was another success, so the hype has been huge for his next album.  Tomorrow We Live, which officially drops April 21st, was the number one Album We Can't Wait to Hear as well.  KB has managed to create some meaning filled tracks with awesome beats in the past. Let's dive in and see if he can continue that trend and meet the high expectations.
The pre-release track, "Sideways" (feat. Lecrae), really helped start the hype for his album for a reason.  It's definitely different, and that's the point of it.  He's talking about how he is a rapper, has fun, and is looked at "Sideways", as in differently.  The background sound, bass, and treble combine for an absolutely awesome sound.  The hook is ridiculously catchy, and the rapping is great as well.  Lecrae adds a little bit more to the track, and the two rappers combine to make an epic song and definitely one to listen to on repeat.
The next track on the album, "I Believe" (feat. Maddie of For Today) starts off in a cool way with the "I Believe That We Will Win" chant.  There's some epic bass right from the get go, and KB dives right in with the rapping.  He says how we have hope because of God and our belief in him.  The shaping of the track around the chant is an awesome choice and works extremely well with KB's style.  There's an interesting switch-up into the "Ole-Ole" chant near the end, which has a bit of an awkward transition.  Overall it's a really cool pump up song that fits with the boxing flair that KB mentioned in his promo video for the album.
The around 30 second track, "9 am", transitions well into "Fall in Love with You" with the change of tone.  It definitely isn't the bass heavy sound heard earlier in the album.  In fact, it's KB singing.  Now that's new.  It's a track about his love for his baby, and it's a song to make you smile.  KB sings extremely well, and the entire feel of the track is a positive one.  This track is definitely a surprise, but it's a good surprise.
"Always & Forever" is another lighter song, but it probably shouldn't have been placed right after "Fall in Love with You".  Though it is a good song, he needs to watch dipping so far into pop genre.  He's trying to be more mainstream, but leaving his sound too much isn't good.  I would've preferred the two change of style tracks to be spread out, but it isn't an album killer.  KB meshes really well with the beat in this track though.  The guitar is a nice added touch to keep the tone fun.  I really like the line, "I don't know what tomorrow holds, but I know who holds tomorrow".  The chorus is really smooth too, but is a literally overused.
To be honest I've never heard a golfer in a rap song, or any song really, so "Ima Just Do It" (feat. Bubba Watson) is a first.  Guess what?  The bass is back!  After a few softer tracks, KB is back to more rapping with a sweet beat.  "The Only life worth living… something about risk".  The rapping isn't the best, as a few lines seem a little forced, but it's not bad either.  Bubba Watson really doesn't add anything to the track in my opinion, and it'd probably be better off without him.  Luckily, the next track, "Cruising", has some much better rapping to keep things going.  It's a good song with a pretty cool beat as well, and that puts the album back on the right track.
"Calling You" starts out looking like nothing special, but picks up quickly.  The bass is absolutely epic with a great beat as well.  The track is about suicide, and while KB is rapping the extra sound takes away from what he's trying to say.  He tries to save his friend, Jason, by telling him there's still a light at the end of the tunnel.  There's then a gunshot and sirens, but he had dropped the gun and just passed out.  KB does a good job pulling the storytelling style.  The track is definitely a really good one overall.
"Drowning" and "Lights Go Out" (feat. Bianca and Justin Ebach) both seem to lack the feeling they could have pushed.  "Drowning" is fairly generic and just lacks something to make it special.  "Lights Go Out" sounds very good, but again is just missing something.  The lyrics have important meaning, but KB's rapping style conflicts with the feeling the track is going for.  I do enjoy the sound of both of the tracks, but that extra meaning is just missing.
Usually remixes are terrible and should be avoided, so KB remixing Hillsong United's beautiful original song, "Oceans", to create "Crowns & Thorns (Oceans)" is risky.  It definitely isn't a track I'd see KB remixing, but it turned out to be an amazing song.  The transition is really cool between the chorus and KB's rapping.  Bass and a great beat combine to complement the slower style he chose for this track.  The only thing is that I think he missed an amazing opportunity to have some very deep lyrics, and while there's definitely a great Christian meaning to the track, it just doesn't go as deep as it could.  Still, it's an awesome song and one of the best on the album.
The bonus track, "Find Your Way" is a really cool track which combines KB's bass heavy style with some lighter touches, allowing for the meaning to shine through.  The track is about and to women.  He's saying how society has it messed up, and that how you look means nothing.  You're a masterpiece, because God created you.  It's a really good track with an important meaning, and a great way to finish off the album.
KB tried some new things that worked out well, and got rid of some meanings that were successful previously.  Tomorrow We Live just seems to lack some of the deeper meanings that we heard in Weight & Glory, and that's a little disappointing.  KB's style definitely works to create some awesome tracks, but there are some things that seriously took away from the album.  Trap beats are overused and the pop flair needs to be watched even though it's not bad music.  Don't get me wrong, there's plenty of great music and meanings on the album.  The expectations were just extremely high, and it wasn't as good as it could've been.
Tomorrow We Live is available for sale on iTunes and other digital retailers.