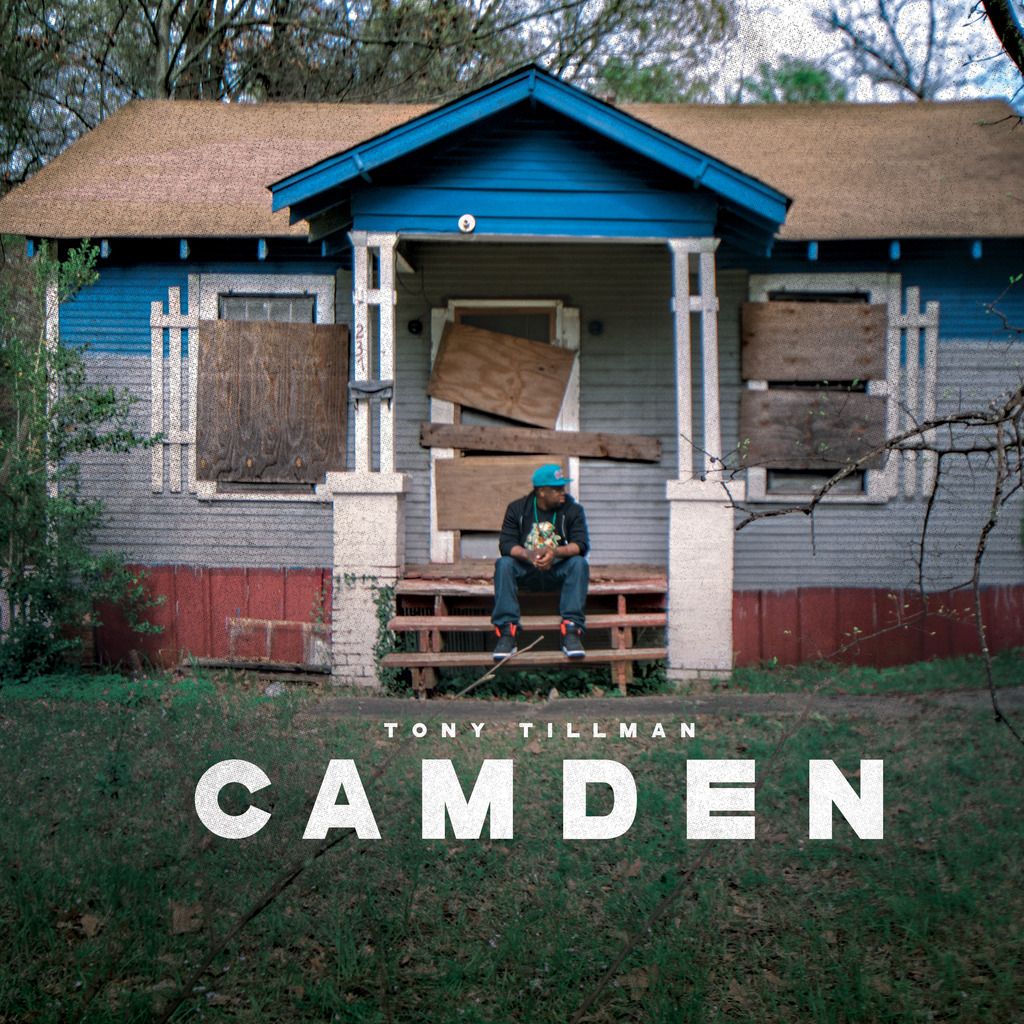 Straight outta Camden we've got Tony Tillman with a brand new album set to drop on August 7th. This is his first official studio album and his third project with Reflection Music Group. Camden is a look into Tillman's gang and crime filled life in his Arkansas hometown. God changed his life though, and now Tillman serves God and is trying to show his grace to others who are struggling with poverty and crime.
Before we get started, I couldn't help but notice it looks like that Camden's album art is the hood version of NF's Mansion art. This house definitely isn't any mansion though. Windows are boarded up, a mother fears for the safety of her children, and gangs pull young men to the darkness.
The desperation is felt right away in "870". This track doesn't hold back with the intensity as the beat and string instrumentals belong in a movie scene full of tension. Tillman goes on and on about the struggles of people as gangs and crime take over the city, "Bloods and Crips on the power trip, fighting over whose block is this, mommas on their knees praying, asking God if he's watching this". The scene is being set for the album, and it's a dark one.
Now that the scene is set, enter our main character with "About Me". The tension continues to rise as he is raised in the thug environment. No father, struggles in school, and fear of safety surround him every moment as he is grows up. Tillman relays the image with his hard-hitting delivery as the scene continues to look grim. Corrupt cops and intense poverty only make things worse, yet a second of hope shines in the final seconds, "I know the truth, I am the proof, I've seen the mountain, I've been to the top, I know the pain, I've been in chains, I gotta homeboy who's been killed by the cops, I can show you the way if you're willing to watch, if you're willing to watch, I've been dealing with Jesus, I know a way that the feeling can stop".
With that transition we come to the pre-release track, "No Lie" (feat. Derek Minor). With Minor's excellent assist, Tillman explains how he should be dead. Selling weed with no focus on God, he could have been shot anytime. God saved him, and he's asking God to forgive him for his old life of sin. This track was what got me really excited for this album. It's solid beat, Minor's well made hook, and Tillman's intensity round out what is one of the best tracks in the album.
We return to the story with the gang influences on him in "Adams Avenue". The track works well into the story line, but the whack beat, excessive bass, and mainly dialogue style delivery make this a weaker one. No worries though, because everything is straightened out with "CMDN" (feat. Deraj, Tragic Hero, and Drew Allen). With those features this one caught my attention right away, and the four artists don't disappoint. The story of this one is "everybody got a Camden". We've all got a story behind us with mistakes, temptations, and struggles. People say, "ain't nothing good in the city full of savages, that's not true, the Messiah comes from Nazareth, even Jesus grew up in the hood, everybody got a Camden". Drew Allen's singing along with Deraj and Tragic Hero's solid verses provide a mix in sound. A bit of a refreshing change-up in voices for a song. "CMDN" is extremely well put together and definitely a great one to put things back on track.
Tillman has connected our stories to his, and now he's going to provide some "Inspiration" (feat. Truth Chiles). For the first time the beat is more positive, and the tension is gone. The uplifting chorus from Truth Chiles improves the flow between the verse of the usually intense Tony Tillman. It's a different feel for him, and his delivery is fantastic for the change away from the sound we've heard so far. Dope rhymes, a cool beat, a motivating feel, and a great singer, what more could you ask for? It's hard to pick the best line from this one, but this one captures the essence, "cause through the fire, it's my hope they see life in the ashes, feels like he's crazy, I just hope they see Christ through the madness". This track's change in style and feel makes it stand out as what is in my opinion the best one in the album.
After that amazing track, the next song, "Lord Have Mercy" (feat. Derek Minor), doesn't live up to its predecessor's standards. Mainly the problems with this track come from the mixing and mastering as well as the over-dependence on the hook. Overall the track treble is too loud in comparison to the vocals, and it really sucks away the quality of the song. "Role Models" suffers from a similar problem. For parts of the track it's very well put together with a light beat and an emphasis on delivery, but for far too much of the track the bass doesn't fit. The beat is reliant on the bass, and it becomes the focus instead of Tillman's delivery.
Fear not, because Gawvi and Alex Medina are here to save the day with their production of "Shadows" (feat. Sye Spence). The bass and beat are back under control, and they are used perfectly to complement Tillman's terrific delivery. Sye Spence's singing is also a nice added cherry on top of this one as well. This is a great example of what really good production can do for a talented artist. We also return to the focus on the struggles of the hood again. Tony Tillman pushes his frustration with the police as well as poverty and the expensive college tuition rates that are impossible for the struggling families to pay. Another great track!
I have to admit my bias on this next one. I needed to smile when I saw Canon is featured on "Without You" (feat. Chad Jones, Canon, and JC). I was curious to see how Tony Tillman's intensity would work with Canon's speed. The differing style were implemented well though. JC's singing provides transitioning well to allow both rappers to show their skills in their own verses. The track finishes off with a reminder, "God is the only reason I'm breathing and not in the hearse, thanking my father, you're the reason everything works, nothing can move without his approval, not even the church".
For the first time we get to see Tony Tillman's storytelling in "Ghost". It's the story of his relationship with his struggling friend. The wife tells Tony that things aren't right and that he needs to talk to her husband. The husband claims things are fine, and Tony believes him. Days later people in the small town are telling him that his friend killed his wife, but he thinks it's got to be a joke. Then he realized it was true and lost it, because he blames himself for her death sometimes, and the ghost still haunts him.
We return to the tension and intensity in "Made it Out". He recalls some more moments in his life, surrounded by crime. The chances he had of dying were high, and he didn't have a church to help him. His family and friend were killed in the streets for their involvement, but he was spared and thanks God for his grace. Tillman's rapping in this one is pretty good for the slightly overemphasized bass, but the sub-par hook makes for some rough moments in this track.
Now that he made it out, Tony Tillman says to the hood that he is "Praying for You" (feat. J Prince). A positive ending to the album as Tillman looks back on his story. Specifically he looks back upon an old friend who went down a different path. His family was torn apart by the crime and drugs, but he's still praying for him. He's reminding the hood that he is out, but he has not forgotten those still there. It's a good way to end the story that is Camden.
I always love an album that tells a story. Camden does a fantastic job of that. There's times throughout the album that you can picture the memories of Tony Tillman's life. The story shows how God's grace can save a sinner in the worst conditions and make him a tool for his will. This in an album for those still struggling through poverty and crime, but it's also a reminder to all of us that we all have our Camden. Overall a solid album by Tony Tillman with some amazing highlight tracks to take away from it.
Camden is available for pre-order on iTunes and will be available when released on August 7th